Duralo Brake Rotors
Drilled and Slotted Brake Rotors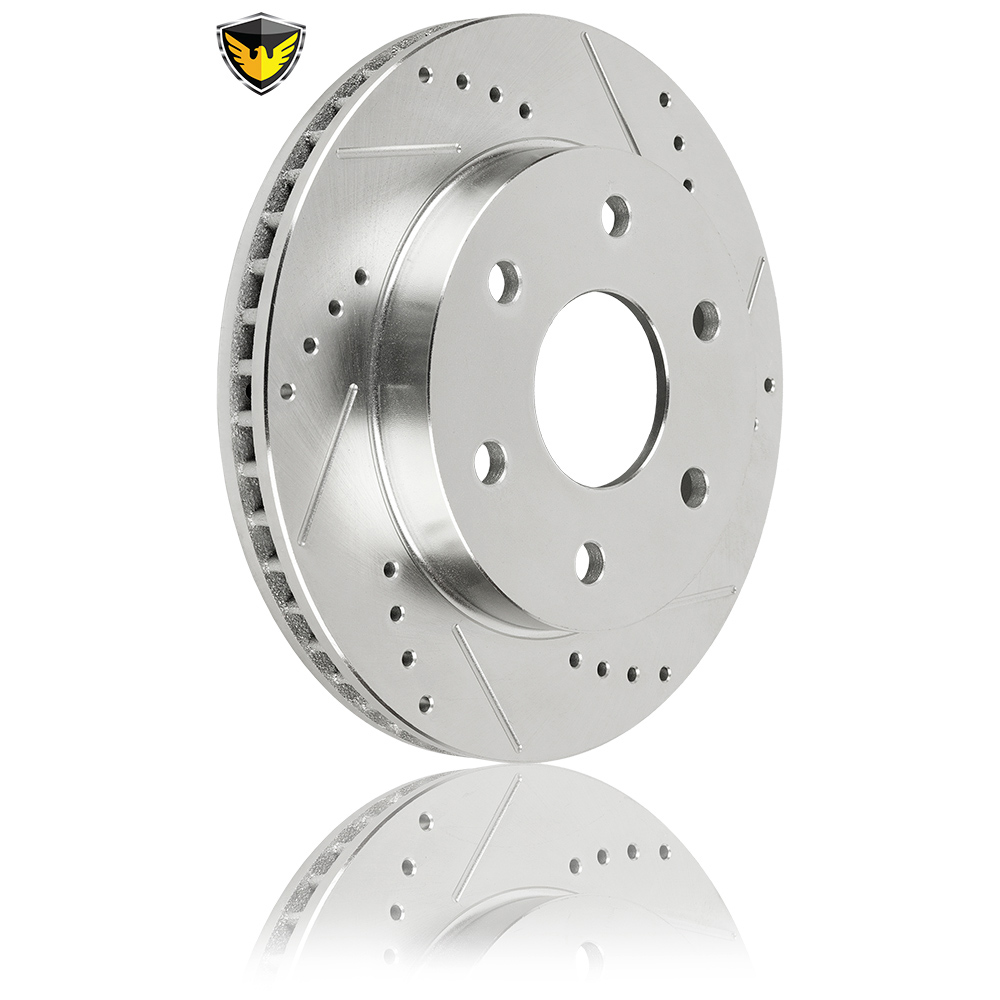 PERFORMANCE ZINC COATED DRILLED AND SLOTTED ROTORS
Duralo Brake Rotors are designed to give you enhanced and lasting braking performance at a great value. With features such as zinc coating, slotting and cross drilling, a stabilized disc, and more precision on the leading edge, Duralo Rotors deliver all you are looking for in your search for a premium brake rotor. All Duralo Brake Rotors are guaranteed to fit just like the factory rotors they replace. To start searching for your Duralo Brake Rotors head to our Partner's page for a list of online stores that sell Duralo Auto Parts.

Some features of our Premium drilled and slotted rotors:

Zinc coated for longer life and premium look
Dimensionally stabilized disc
More precise leading edge for a better bite
Ultra resistant to abrasive friction
Drilled and slotted to run cooler and improve stopping distance
Servicing the complete brake system on a regular basis is extremely important. You can eliminate the chance of a car accident due to faulty or underperforming brakes simply by following these guidelines:

Are your rotors worn out? Do you notice them causing noise, brake chatter and/or a pulsating pedal when you stop from fast speeds? Replace your worn out rotors as soon as possible. Warped rotors are dangerous
Replace worn brake hardware which may also be causing noise or premature brake pad wear.
Regularly inspect brake hoses and brake fluid. Replace your hoses when deemed necessary and top off fluid when it is below the brake fluid reservoir fill line.
Advantages of drilled and slotted brake rotors
Drilled and slotted rotors offer a great blend of performance, longevity, looks, and safety. Besides having clear advantages in stopping performance against other rotor options, the drilled and slotted rotor also goes a long way to ensure your safety. The slots and drilled holes prevent dust and water buildup that can threaten longevity and consistent, short stops. The slots are also proven to improve air circulation, cooling, and gas venting, allowing the pad to "bite" more effectively. In terms of safety, drilled and slotted rotors are proven to reduce stopping distances in wet weather and reduce brake "fade" in all kinds of weather. Other advantages include enhanced grip, reduced wear, and lighter unsprung weight compared to solid style rotors.